---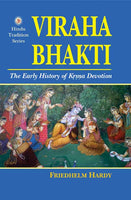 The Lord Krsna abandoned his earthly mistresses who then spent their days of separation pining for his return. This powerful theme found expression not only in myth, but also in the devotion and poetry of a religious culture which evolved in South India. From the fifth century A.D. the Tamils absorbed many elements from the classical traditions of the North, such as yoga, temple worship and Krsna myths, and the results were unique blends of the two civilizations. Viraha-bhakti, as the author styles this type of Krsna religion, imbued the theme of separation with erotic and ecstatic features and evolved as one of the highlights of Indian religion and culture. The present work is a detailed study of the multifarious origins of Viraha-bhakti in South India and its developments up to the point at which it entered the pan-Indian scene.
The study suggests a revision of the monolithic image of Indian religion implied in much scholarly literature. It differentiates a great variety of interacting traditions and milieux, and demonstrates the dynamism of Indian culture. By identifying a specific type of religion and reflecting on its significance, the author attempts, at the same time, to go beyond purely textual and historical considerations. Thus the book will be of interest to any student of Indian religion and culture.
Review(s)
About the Author(s)
Friedhelm Hardy (1943-2004), was Professor of Indian Religions, teachings of Kings College, London. He was a linguist familiar with both classical and modern Indian languages. He was also the author of prominent work The Religious Culture of India: Power, Love and Wisdom.