---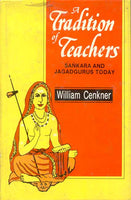 The uniqueness of the Indian guru rests upon the uniqueness of the Indian
teaching tradition. An understanding of a religious figure in India can be
achieved only within the framework of the teaching tradition from which
that individual has come.
The study selects one way of understanding the guru in classical Hindu life
in the belief that this articulation offers something normative for an
understanding of guru in the wider Indian development and history. The
first part of this book is drawn from the texts that trace the role of guru
and the guru-sisya relationship in the writings of Sanskara. The second
part of the book is an investigation of the five major acaryas of the
Sankara tradition reigning during the last half of the twentieth century.
Thus, the articulation of the guru in the writings of Sankara, in part one,
is tested from the historical context among the Sankaracaryas of the recent
past.
Review(s)
"Cenkner has produced a helpful work on an important facet of the tradition
of Sankara: the succession of acaryas of Sankara order, their contemporary
teaching, and methods." DANIEL P. SHERIDAN
"A fascinating book, of meticulous sch
About the Author(s)