---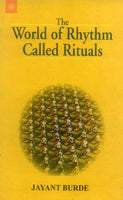 When someone mentions rituals we usually think of religious rituals such as prayer, puja, marriage ceremonies, sermons and so on. However, if we introspect a little, we realize that we spend most of our life in performing rituals of one type or another. Most of our activities from morning till night are ritualistic. This book explains how rituals are closely connected with verse, music and dance. It asserts that like music and dance rituals belong to the world of rhythm. By ritual we mean any stylized behaviour that recurs. Rituals abound in all walks of life: social intercourse, military affairs, law and politics, education and so forth. In most rituals rhythm is manifest and loud. In a few rituals which have a slow tempo, some analysis is necessary to detect rhythmic patterns. The author beautifully portrays the types of rituals and the rhythms they generate from the babbling of a child to a band parade or the chanting of a mantra. He explains the initiation and completion of patterns that form the rhythm. This book shows that like music and dance, rituals belong to the world of rhythm. A discussion on ritual instinct is given at greater length. The book further proceeds to •Hermeneuticsê or the science of interpretation and explains rituals in their light. There are many technical words from music, dance and religion. These have been explained in the text. A glossary which can be used for ready reference has been provided. The notes which have been added after each chapter are meant for those who would like to know more about the relevant topic.
Review(s)
About the Author(s)
Jayant Burde received his M.Sc. degree in mathematics from Bombay University and a law degree from Bangalore University. He is also a Certificated Associate of Indian Institute of Bankers. His published papers contain mathematical models in finance, costing and organizational structure.
He has also authored five books: Philosophy of Numbers, Rituals, Mantras and Science (MLBD, 2004), Sunya and Nothingness (MLBD 2009), The Mystique of Om (New Age Books, 2007) and The World of Rhythm called Rituals (New Age Books, 2007).