---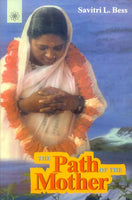 The Path of the Mother introduces us to a divinity more whole than any we
have yet encountered - her arms open to men and women of any persuasion or
practice. She is at once masculine and feminine, creator and transformer,
joy and anguish, the all-loving Mother and the true, realized human Self.
Drawing on her most vibrant expression, this inspiring book traces her
myriad faces - compassionate, fierce, enchanting, challenging,
passionate-in male and female deities of many religions.
Practical Exercises,meditation,yoga and prayers will help both novice and
veteran seekers to rediscover their innocence,belance their inner masculine
and feminine energies,resolve their buried wounds,desires, and talents, and
open their hearts to the nurturing guidence of the Mother-God within us
all.
Review(s)
About the Author(s)
Savitri L. Bess is a transpersonal therapist,workshop facilitator, and fiber
artist who has been awarded both a Fulbright and an NEA grant.She has been
on the Path of the Mother for more than twenty-seven years.She is also a
therapist and teacher of Yoga and meditation and has conducted a number of
workshops.At present she resides at the Amma Center of New Mexico ashram in
Santa Fe,New Mexico.