---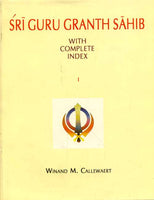 Am analysis of the Adi-granth of the Sikhs compiled in 1604 in no way suggests a lack of respect for the sacredness of the scripture. Human hands and memories were needed to give a form to the divine inspiration which started with Guru Nanak early in the 16th century. It was the genius of a human medium that put that inspiration in writings. It was not only an inspiration of a moment or of a few months but of several centuries as is testified to by the numerous hymns of Bhagats prior or contemporary to Guru Nanak.
Review(s)
About the Author(s)
WINAND M. CALLEWAERT is Professor of Sanskrit at the KULeuven, Belgium.
Besides numerous research articles he has published 17 books in English or
Hindi and 12 in Dutch.