---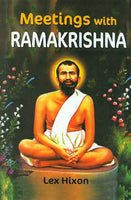 Meetings with Ramakrishna is a dramatic retelling for contemporary Westerners, of a series of encounters with the great Bengali sage Ramakrishna (1836-1886), who proclaimed the oneness of all religions and the worship of the blissful Divine Mother. By turn playful, brilliant, tender and visionary, Ramakrishna offers practical instruction, inspiration and thrilling glimpses into his state of spiritual intoxication as he meets with devotees and visitors in his room beside the holy river Ganges.
Review(s)
"Hixon's book emphasizes-from the vantage point of the knowledgeable, discerning Westerner on the brink of the twenty-first century-the atmosphere that Ramakrishna created through his words, his deeds, and above all the mere fact of his spiritual presence."-Huston Smith, author of the World's Religions, Professor in Religious Studies, University of California, Berkeley
"...as Hixon so accurately points out, 'Ramakrishna is not a quaint person from an ancient culture, representing a particular religious background, but an Einstein of the planetary civilization of the near future, a greenhouse for the future evolution of humanity.' This book thus contains the 'master-key' that opens all cultures and hearts." - KEN Wilber, author of No Boundary
"Dr. Hixon writes very well and in this re-creation has tried to make his 'meetings with Ramakrishna' as exciting for the present-day reader as they were for those privileged to meet Sri Ramakrishna, alive in the mid-part of the nineteenth century in Calcutta." - Charles S.J. White, The Adyar Library Bulletin, vol.62 (1998)
About the Author(s)
Lex Hixon holds joint citizenship in several sacred worlds - Advaita Vedanta, Islamic Sufism, Vajrayana Buddhism, Eastern Orthodox Christianity, and Soto Zen. He received a doctorate in philosophy and religion from Columbia University and is the author of Coming Home: The Experience of Enlightenment is Sacred Traditions and Heart of the Koran.