---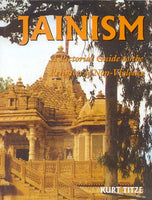 Kurt Titze invites the reader, after acquainting him or her with the main
tenets of the world's classical religion of non-violence, to join him on a
fascinating pilgrimage. The past glories of India have been and still are a
favourite subject in books and films. In this book with its 350
illustrations spread over 280 pages, Kurt titze enfolds a sequence of
glories which have been kept alive to the present-day.
The aim of this book is to entice the reader to ask his way to spots
and sites that are not mentioned in tourist guide books. To the Digambara
Meru temple in Old Delhi, for example, or to the Veerayatan Ashram on the
outskirts of Rajgir run by Jaina nuns, or to the rock-cut twenty-four
Tirthankaras near Gingee in Tamilnadu. That an increasing number of people
who pick up this book may do so instead of climbing the ramparts of yet
another fort or of gazing at yet another collection of horrifying weapons.
Review(s)
"We have this delightful guide to Jainism with 350 photographs in a simple
yet knowledgeable language. It is an exhaustive collection of maps, floor
plan of temples, photographs, archaeological illustrations, quotations from
scriptures, descriptions
About the Author(s)