---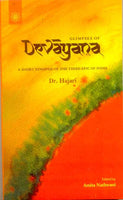 To arouse interest of the general public in Devayana, the third epic of India, the Glimpses of Devayana is now being brought out. It begins with the creation of universe and provides details of the Four Ages where Gods, Titans and spiritual heroes walk on the earth. There are accounts of devastating struggles between gods and Demons, and godly kings fighting the demonic forces, as well as peaceful and harmonious times when humanity enjoys eternal bliss. For the first time, we come to know more about the Golden Age. Devayana will surely become as popular as the Ramayana and Mahabharata in the years to come.
Review(s)
The Epic is described as a spiritual history from the Golden Age to the Iron Age and again to the Golden Age inaugurated by the descent of the higher consciousness, the supramental, to the earth to unfold the Vedic Truth. The Spiritual history of the rac
About the Author(s)
Dr. Hajari was born in Khulna, now in Bangladesh, on 16 September 1917. At the age of 18, he followed his Guru, Sri Aurobindo to his Ashram in Pondicherry where he lived till he passed away on 23 December 1978. While in the Ashram, Dr. Hazari served as a homeopathic doctor and in that capacity became well known by treating patients with incurable diseases. During the early 1950s he wrote the Devayana.