---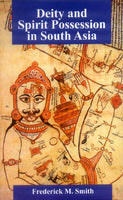 This book, winner of CHOICE outstanding Academic Title Award 2007, is a multifaceted, diachronic study reconsidering the very nature of religion in South Asia, the culmination of years of intensive research. Frederick M. Smith proposes that positive oracular or ecstatic possession is the most common form of spiritual expression in India, and that it has been linguistically distinguished from negative, disease-producing possession for thousands of years.
In South Asia possession has always been broader and more diverse than in the West, where it has been utmost entirely characterized as –demonic." At best, spirit possession has been regarded as a medically treatable psychological ailment and at worst, as a condition that requires exorcism or punishment. In South (and East) Asia, ecstatic or oracular possession has been widely practiced throughout history, occupying a position of respect in early and recent Hinduism and in certain forms of Buddhism.
Smith analyzes Indic literature from all agesãthe earliest Vedic texts; the Mahabharata; Buddhist, Jain, yogic, Ayurvedic, and Tantric texts; Hindu devotional literature; Sanskrit drama and narrative literatures; and more than a hundred ethnographies. He identifies several forms of possession including festival, initiatory, oracular, and devotional, and demonstrates their multivocality within a wide range of sects and religious identities.
Review(s)
–This comprehensive work should appear on the shelf of every serious scholar of South Asian religion. ...Smith shows how possession bears on issues of embodiment and disembodiment and, in particular, selfhood and personal identity. Possession appears in w
About the Author(s)