---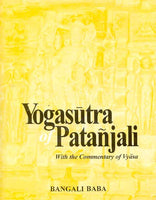 Sale
The YOGASUTRA OF PATANJALI constitutes one of the six Darsana of Ancient Indian Philosophy, the sole aim of which is to unravel the mysteries of yoga, give insights into its practices and lead the aspirant from the realisation of the Individual Self to that of the Supreme Self.
The book is divided into four Chapters. Chapter I expounds the grades of action necessary for restraining the exhibitive operations of the mind. Chapter II deals with the gross impurities that have entered into our mind. Chapter III pertains to the dissolutionary change of worldly life by taking recourse to Samyama. Chapter IV explains the working of the three-fold action pertaining to the present, past and future. It reaches how the Individual Self attains release from the bondage of actions and is merged into Brahman.
The book comprises the Yoga Sutras of Patanjali, the commentary of Vyasa thereon, English translation of both the Text and the Commentary, Notes, Preface, Appendix and Chart.
Review(s)
About the Author(s)