---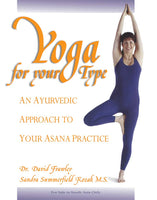 Sale
About the Book:
This is the first book that details how to choose Yoga asanas (Yoga poses) most appropriate for your unique body type according to the five thousand-year-old system of Ayurvedic medicine. These two systems of healing and energy management have long been regarded as effective methods of relieving stress, creating personal balance, eliminating ailments, and relieving chronic pain. Yoga for your Type presents a fundamental understanding of both Yoga and Ayurveda and provides the information needed for you to balance your energy and feel healthy.
About the Author:
David Frawley (Vamadeva Shastri) is one of the few Westerners recognized in India as a Vedacharya or teacher of the ancient Vedic wisdom. He is the author of numerous books and articles on Vedic Topics including Ayurveda, Vedic Astrology,Vedanta, Hinduism, Yoga and Tantra, as well as translations and interpretations from the Vedas. Dr. Frawley has been given many awards for his work in India including the Veda Vyasa award by the International Institute of India Studies. He is a Jyotish Kovid through the Indian Council of Astrological Sciences, and is also the President of the American Council of Vedic Astrology, the American offshoot of the Indian council; He has a Doctorês degree in Chinese Medicine and has also been certified as an expert through the University of Poona for his knowledge of Yoga and Ayurveda. He is presently Director of the American Institute of Vedic Studies.
Review:
Yoga for your Type explores in much greater depth how and why to approach asana practice from the perspective of Ayurvedic principles. It's a handsome, accessible, clearly written, well-illustrated guide to understanding and formulating your practice so that it will promote doshic balance ...Nearly 150 pages of individual poses accompanied by charts detailing how people of different doshic types should approach each pose. The poses are very capably demonstrated by a roster of models... in a nice aesthetic touch, major sections are separated by artful photos of well-known teachers...Yoga for Your Type is inviting, wise and useful.-Yoga Journal
This extraordinary book represents a reunification of the wisdom of two paths which have until now remained largely separate in modern times. These pages are brimming with practical and immediately useful recommendations not only regarding adapting one's asana practice to one's specific body type, but how we can live in harmony with our unique selves. The authors have performed a meaningful and unprecedented service in delineating the inextricable relationship between Yoga and Ayurveda. This volume is a truly important milestone in the restoration of unity between these two teachings.-Scott Gerson, MD, Medical Director, Clinical Services, The National Institute of Ayurvedic Medicine, Author: The Sattva Program: The Ayurvedic Approach to Weight Loss and Maintenance.