---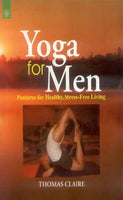 Yoga for Men is a comprehensive introduction to yoga specially designed for men of all ages and backgroundsãathletic or sedentary, young or old, the yoga devotee or the neophyte just starting out on his yoga journey. It is presented in a simple, easy-to-follow format that includes a fully illustrated, basic, yet complete, yoga practice session, to serve as a companion to your own personal yoga practice. It provides an overview of all the major styles of yoga to help you custom-tailor a practice to suit your needs. In addition, Yoga for Men includes information specific to menãhow yoga affects male health concerns, how yoga can help during the phases of a manês life, how yoga can enhance performance for athletic activities as well as your sex life, and how yoga can be enjoyed with a partner.
Review(s)
–Yoga for Men provides and excellent analysis of yoga postures for the male body and mind and their energetic usage, as well as giving a good overview of the main types of yoga most popular in the West today and their relevance for the contemporary yoga s
About the Author(s)
Thomas Claire, is a writer, body/mind teacher, and personal development facilitator. He brings more than 30 years of experience with personal yoga practice to Yoga for Men. Thomas is the author of the critically acclaimed guide Bodywork: What Type of Massage to Getã and How to Make the Most of it. In addition, he taught Eastern anatomy and bodywork in the Healing Arts division of Queensborough Community College, the City University of New York.