---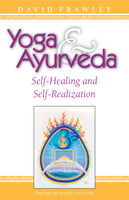 Sale
Yoga and Ayurveda together form a complete approach for optimal health, vitality and higher awareness. Yoga and Ayurveda reveals to us the secret powers of the body, breath, senses, mind and chakras. More importantly it unfolds transformational methods to work on them through diet, herbs, asana, pranayam and meditation. This is the first book published in the West on these two extraordinary subjects and their interface. It has the power to change the lives of those who read and apply it.
 Review(s)
–Once again, Dr. David Frawley demonstrates his ability to make timeless wisdom relevant for the modern person. His new book illustrates why I consider David to be a true Rishi- a knower of reality. Toga and Ayurveda should be in the library of every serious student of Yoga and Vedic knowledge." - Dr. Deepak Chopra
"Yoga and Ayurveda impels, guides and teaches us how to connect our earthy physicality with our soulful aspirations, in the process teaching us the inner art of controlling our subtle energies... Hinduism Today endorses Yoga and Ayurveda and knows that it will further the on-going Hindu renaissance by virtue of the lucid, well-explained teaching that it contains." - Hinduism Today
"Through a skillful exploration of the inner dimensions of these two great sister sciences, Dr. David Frawley has performed a wonderful service to anyone seeking to restore wholeness in body, mind and spirit." - Pandit Rajmani Tigunait, Spiritual Director of the Himalayan Institute
"This book highlights the close connection between Yoga and Ayurveda" - Homeopathy for all, Vol.3, No.15, march 2001
"This book provides the most comprehensive knowledge to any one-neo-phyte or well-versed in these topics who is sincerely in quest for finding important keys and meaningful guidance for a better life." - Vedic Astrology, Vol.4, No.4, July-Aug 2000
"This book is yet another book which needs to be read, understood and honestly practiced by each world citizen on this Planet Earth... Millions of copies of this book should be published in all the languages of the world so that each and every human on our planet earth can make use of this great knowledge." - Dr. J. N. Puri, National Herald, 22nd April, 2000
"Yoga and Ayurveda both have their roots in Vedic science, the book is best understood in a Vedic context. Albeit lengthy and repetitive at times, a must buy for the devoted admirers of the Vedic ways of life." - Dibyendu Mukherjee, The Life Positive, Vol.5, No.1, April 2000.
About the Author:
David Frawley (Vamadeva Shastri) is one of the few Westerners recognized in India as a Vedacharya or teacher of the ancient Vedic wisdom. He is the author of numerous books and articles on Vedic Topics including Ayurveda, Vedic Astrology,Vedanta, Hinduism, Yoga and Tantra, as well as translations and interpretations from the Vedas. Dr. Frawley has been given many awards for his work in India including the Veda Vyasa award by the International Institute of India Studies. He is a Jyotish Kovid through the Indian Council of Astrological Sciences, and is also the President of the American Council of Vedic Astrology, the American offshoot of the Indian council; He has a Doctorês degree in Chinese Medicine and has also been certified as an expert through the University of Poona for his knowledge of Yoga and Ayurveda. He is presently Director of the American Institute of Vedic Studies.