---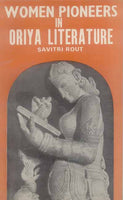 The main feature of this monograph is an elaborate essay on poetesses and women writers of Orissa, ancient and modern, who have won recognition in their respective fields.
When something most inspiring happens, oneês emotions may for a time be roused to the
level of feeling as that of a poetês, but such feelings will not enthuse one to write poetry, unless one is poetically gifted. These poetical gifts are inborn in a man or woman, they cannot be cultivated by practice. One needs the gift to write poetry combining it with oneês own depth of feelings and a sense of elaborate imagination. One cannot venture to brag about oneself to be in possession of such a creative touchstone which shapes the total personality of a •poetessê. Hence the present work is rather a compilation of the views and reviews of my predecessors, who have worked in this specialised field, supplemented by an anthology of quotations from the poems or other compositions of such authors.
An occasion for writing such a monograph arose, when an –Introduction" for the edition of the Sanskrit drama •Purusottama Devaê by Madhavi Dasi was needed. She, a Vaisnavi poetess of the Middle Era of Oriya literature, seems to be the first and foremost woman writer of Orissa. Her works are preserved in the different museums of India. Her importance counts all the more, since she seems, until now, to be the only Oriya woman dramatist of a Sanskrit play- •Purusottama Devaê. There might have been other Sanskrit dramas composed by women in Orissa, but unfortunately such works have not been discovered till the present day.
Review(s)
About the Author(s)