---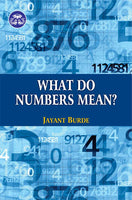 Sale
About the Book:
Most of us frequently use numbers. By rote we reel off- zero, one, two... But how many of us know what 2 or 5 means or what numbers indicate. This book is a number primer for those who have not been exposed to number theory. The only prerequisite required is that the reader has completed Std. X. After reading the book they may feel that they should learn number theory or mathematical phi-losophy. The sources for these subjects are indicated under further readings.
About the Author:
JAYANT BURDE holds academic and professional qualifications in physics, mathematics, law and banking. His published articles and papers include many areas such as mathematics, physics, finance, organizational structure and cost benefit analysis.
His published books are:
Rituals, Mantras and Science (MLBD, 2004), Philosophy of Numbers (2007), The Mystique of Om (New Age Books, 2007), The World of Rhythm called Rituals (New Age Books, 2007), Buddhist Logic and Quantum Dilemma (MBD, 2012), Jaina Relativism and Relativity Physics (MLBD, 2014), The Riddle of the Infinite (MLBD, 2020) and Mathematics of Tantra (MLBD, 2020). Pathological Ritualsand OCD (MBPH, 2022).