---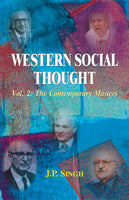 About the Book:
In this book an effort has been made to offer students a lively and critical introduction to contemporary sociology. It is written with a range of students in mind. It will also be of interest to anyone curious about the nature of cotemporary sociology in the West.
The book critically examines the major contemporary social thinkers from Claude Lévi-Strauss (1908-2009) to Randall Collins (born, 1941). The sociological thinkers covered in this book are Claude Lévi-Strauss, Lewis Alfred Coser, Charles Wright Mills, Harold Garfinkel, Louis Pierre Althusser, Peter Michael Blau, Erving Goffman, Jean-François Lyotard, Paul-Michel Foucault, Peter Ludwig Berger, Gustav Dahrendorf, Jean Baudrillard, Jürgen Habermas, Jacques Derrida, Pierre Bourdieu, Immanuel Maurice Wallerstein, Anthony Giddens and Randall Collins.
Modern social theory is an essential text for sociology students and will also be welcomed by those readers who are interested in social and political theory, social psychology, organization studies and cultural studies.
The book will be useful for students as well as teachers of sociology, anthropology, political science and history.
About the Author: 

J. P. SINGH, an author and lexicographer, holds MA (PU, Patna) and MPhil in Sociology (J N U, New Delhi) and PhD in Demography from the Australian National University, Canberra. He worked as Associate Professor of Research Methodology at TISS, Mumbai, Addl. Director of Population Research Centre, Patna University, Director (Higher Education), Govt of Bihar, Pro Vice-Chancellor and Professor of Sociology at Patna University, Patna till his superannuation in 2015. He held Professional Associateship of the Population Institute, East-West Center, Hawaii (USA). In addition to numerous research papers in professional journals from India and abroad and standard textbooks in Hindi, the author has published such lexicographic titles as Samaj Vigyan Vishwakosh (2009), Manavshastra Shabdakosh (2019) and A Comprehensive Dictionary of Sociology (2021).