---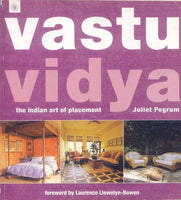 Vastu Vidya helps you design and organise your home or workplace to improve your good fortune and encourage wellbeing. Rooted in Hindu tradition that goes back thousands of years, Vastu Vidya is said to be the ancestor of Feng Shui.
Vastu Vidya (literally "dwelling science"--sometimes known simply as Vastu) seeks to align the places where we live and work with the energy of the cosmos and put us in harmony with our surroundings. Interest in Vastu is now re-emerging in India and growing rapidly in the West. It will help
to:
* Reorganise your bedroom, living room, kitchen, bathroom and office
* Find the right places for your furniture, wall hangings and decorative effects
* Restore harmony to your living environment
* Invite inner peace, success and prosperity
* Explore the traditions and ancient wisdom of India
* Find inspiration from famous cities and buildings with good Vastu
Review(s)
About the Author(s)
JULIET PEGRUM is a freelance textile and spatial designer. Vastu Vidya unites the two predominant strands of her life--design and yoga.