---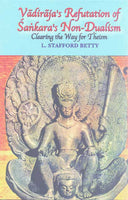 In this volume L. Stafford Betty translates and provides commentary on a work by the sixteenth-century Hindu philosopher-theologian and poet Vadiraja. Vadiraja was a follower of Madhva, the originator of the system known as Dvaita (Dualist) Vedanta, which teaches that God is the Supreme Person and is different from His creation. Madhva's system clashes head-on with the redoubtable Sankara's Advaita (Non-dualist) Vedanta, which teaches that God is impersonal and is ultimately identical with all that is. As is today the case, in Vadiraja's day also, Sankara's Non-dualism was regarded by the majority of India's intellectual elite as His finest and purest presentation of the Eternal Truth enshrined in the Vedas.
In this work Vadiraja passionately contests Non-dualism's supposed supremacy and fidelity to Scripture. Combining deft analogy, often charming metaphor, and a ruthless method of reduction ad absurdum, he cuts and swipes until the imposing Goliath of Non-dualism has been, to his mind, destroyed.
Professor Betty has provided a concise, fairly literal translation of the text, which is written in the extremely compact style characteristic of Dualist polemics. His extensive commentary, most of it original, is perhaps the clearest guide to the tortuous intricacies of Dualist-Non-dualist dialectic in any Western language.
The Sanskrit text and a Glossary-index are also included.
Review(s)
About the Author(s)