---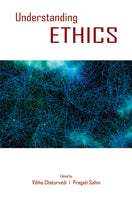 Sale
This book is a collection of readings on ethical issues that form a part of the philosophy curriculum of several universities. The readings reflect many important perspectives that exist within Western ethical philosophy and Indian philosophical traditions. Readers are introduced to discussions on various issues, ranging from the classical to the contemporary. This book will be useful for comprehending debates and deliberations in ethics and will encourage readers to reflect critically on a wide range of ethical concerns.
Understanding Ethics contains six sections: Nature and Scope of Ethics, Ethical Theories, Indian Ethics, Social Ethics, Ethics in the Spotlight, and Ethical Concerns.
Review(s)
The book is an interesting introductory anthology designed to inform students about the meaning and scope of the field of "ethics". What is also distinctive about the present book is its inclusion of a section on specific problems relating to ethics in Indian thought..... Overall the volume is a useful and timely introduction to "understanding ethics". --Prof. Gerald James Larson in his Foreword

A wide range of issues on ethics ranging from classical to contemporary and theoretical to applied in both Indian and Western traditions have been covered in this book. I find the segment on Indian Philosophy especially interesting. Many of the articles exhibit a freshness of approach and raise some original and interesting questions. I am sure the book will be of interest to a wide cross-section of readers. --Prof. (Ret.) H. S. Prasad, Former Head, Department of Philosophy, University of Delhi

Understanding Ethics on the whole is a very good introduction to issues in normative ethics... The Language is deliberately kept simple but the complexity of concepts and their interrelations is well brought out. --Prof. Rakesh Chandra, JICPR, Vol. 33, No. 2, 2016
About the Author(s)
Vibha Chaturvedi retired as Professor of Philosophy from the University of Delhi. Her publications include The Problem of Personal Identity (1988) and Wittgenstein's Fideism, Belief, Reason and Practice (2002) and Girl Child: Changing Perspectives, (co-author, 2010).
Pragati Sahni is Associate Professor of Philosophy at the University of Delhi. She is the author of Environmental Ethics in Buddhism: A Virtues Approach (2008).