---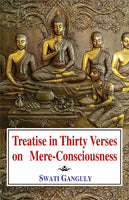 About the Book:
The Wei-shih-san-shih-lun-sung (Vijinaptimatratarisasastrakarika, Treatise in Thirty Verses on Mere-Consciousness) is a Chinese version by Hsuan-tsang, the great Chinese scholar and traveller, of the Sanskrit text of the Trimsakarikas of Vasubandhu. The Trimsika sums up the essentials of the Yogacara-Vijnanavada school of Buddhist thought in thirty verses Ten Indian Yogacara teachers including Dharmapala elaborated them in their commentaries on the Trimsika. Of those commentaries only Sthiramati's work is available in Sanskrit and the rest are lost now. Hsuan-tsang summarized the interpretations of all the ten commentaries following the line of Dharmapala in his master piece, the Ch'eng-wei-shib-lun (Vijnapti matratasiddhisastra, Treatise on the Establishment of the Doctrine of Mere consciousness). The present volume consists of a critical translation of the Wei-shih-san-shih-lun, a comprehensive translation of the Ch'eng-wei-shib-lun along with a summary of the text, and a comparison of the Sanskrit and Chinese commentaries of Sthiramati and Dharmapala.
The book explores the developments and the various implications of the doctrine of Mere-consciousness. It aims at the evaluation and reconstruction of the patterns of Buddhist idealism in India and China from the Sanskrit and Chinese sources of the Yogacara-Vijnanavada. This work is the first comprehensive translation and inter pretation of the basic Yogacara-Vijnanavada texts preserved in Chinese.
About the Author:
DR. SWATI GANGULY was born in 1945 in West Bengal. She obtained two M.A. degrees, one in Sanskrit from the University of Calcutta and the other in Asian Studies from the University of Illinois, Urbana Champaign, U.S.A. She was awarded D. Phil. in Sanskrit by the University of Calcutta. Her doctoral dissertation was written in Sanskrit language.
Dr. Ganguly was awarded Research Assistantship to do her M.A. in the Department of Asian Studies, University of Illinois, U.S.A. There she studied Chinese language and literature under the guidance of Prof. Richard Chang and Chinese Buddhism under the guidance of Prof. Whalen Lai. The present work was inspired by Prof. Lai, who is currently the Chairman, Department of Religious Studies, Davis, University of California, U.S.A.
 Dr. Ganguly held numerous research positions in the Universities of Calcutta, Illinois and Delhi. She has published a number of papers and articles in the allied fields of Buddhism in various academic journals. Presently she is an U.G.C. Research Scientist in the Department of Buddhist Studies, University of Delhi.