---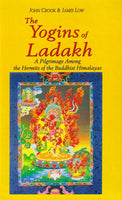 Sale
When John Crock of Bristol University began research in the Zangskar valley of Ladakh in 1977 his prime intention was to investigate the social anthropology of the area through studies of village life.
In 1986 Crook returned to Ladakh with Tibetologist James Low to enquire fully into the social organisation, history, meditational practices and philosophy of the yogins who still lived and practiced in the remote parts of the area. This book is a record of the author's adventurous journeys to meet some remarkable men.
The yogins were often generous, providing accounts of their training, one of them allowing Crook to photograph a previously unknown text-instructions on Mahamudra by the eminent Tipun Padma of this difficult work together with that of a biography of the great women yogin Machig Labdron provides the basis for extensive and original discussions of the meaning of Tibetan Buddhism and it's significance in our time.
Review(s)
I have read it cover to cover with enthusiasm! It has a real sense of immediacy and experience as a travel book, never mind the rest! - Robin Dunbar, Prof. of Evolutionary Psychology, Liverpool University
Reading the Yogins of Ladakh was a confirmatory experience for me; like receiving a teaching and knowing its implication for practice immediately. - Dr.Eddy Street, Counselling and Clinical Psychologist, Cardiff
The book has allowed us an insight into the lives of the people who live in remote parts of Ladakh. The text serves not just as a journey into the arid landscape of the region but is also a pilgrimage celebrating the life of the hermits of the Buddhist Himalayas. - Swagat, November 97
"This is a book not to be taken in hand unadvisedly, lightly or wantonly. It is a serious attempt by two eminent scholars of anthropology. Psychology and theology to unravel the mysteries of Buddhism in its most uncompromising form, and to make this intelligible and defensible to readers brought up in a Western intellectual culture - John Ure, Times Literary Supplement, London
Religion is not a few moments in a man's life. It makes regular exits and entrances. It enwraps in itself moments of truth, hours of triumph, signs of desperation and decay but a constant urge to renew oneself. It's an errand of mercy, as comes through the book The Yogins of Ladakh-once a travelogue, once theology, but mostly an interface between the two. - The Weekend Observer, August 30, 1997