---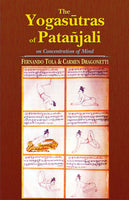 Sale
The Yogasutra is one of the most important works of Indian culture. The present book is an attempt of interpretation of the Yogasutras based on some special criteria adopted by the authros: (1) To use the traditional commentaries as auxiliaries, not as guides, with prudence and freedom, (2) To interpret those Sutras, in which Patanjali analyzes real phenomena, as what they actually are: descriptions of facts of experience. To such an end the authors have tried to have a clear idea of the phenomena to which Patanjali refers, and in this task they have found extremely useful the descriptions of their mystical experiences by Yogis of India and Christian mystics. The book includes the Sanskrit text of the Sutras and an English translation by the authors.
Review(s)
"...a number of sometimes surprising and novel insights are introduced to the reader for consideration...The compartmentalized format of the book will enable students in seminars to utilize it without much difficulty. Recommended for all academic librarie
About the Author(s)
Fernando Tola and Carmen Dragonetti have been Professors in the National Universities of San Marcos (Lima, Peru) and Buenos Aires (Argentina). They undertook investigation work of the National Council for Scientific Research (CONICET) of Argentina, in the area of Indian Philosophy. They were Vice-President and President respectively of the Institute of Buddhist Studies Foundation (FIEB) (Argentina); Directors of the Revista de Estudios Budistas (Journal of Buddhist Studies) REB, edited in Mexico; and Overseas Research fellows of The International Institute for Buddhist Studies (Tokyo).
Independently or in collaboration, they have published several books in Spanish on Indian Culture, specially on Indian Philosophy, as Yoga and Mysticism of India, Philosophy and Literature of India, Mahayana Buddhism; several translations into Spanish of important Sanskrit and Pali texts, as Hymns of the Rig Veda, Hymns of the Atharva Veda, Upanisads, Bhagavadgita, Upadesasahasri, Gita Govinda, Amarusataka, Damodara Gupta, Dhammapada, Udana, Digha Nikaya, Sutta Nipata. In English they have published The Yogasutras of Patanjali, Nagarjunaês Refunation of Logic, Vaidalyapraparana, Being as Consciousness and On Voidness, A Study on Buddhist Nihilism.