---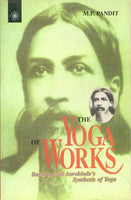 The book deals with the problem of life-energy, action and direction, which confronts us all whenever we try to integrate our spiritual aspirations with the daily life around us and the need to "work" in the society and play a role in the vast undertakings of the Western world.
Review(s)
About the Author(s)
M.P. PANDIT is the author of more than 100 books on yoga and spirituality.
He is a world-recognised authority on yoga and an authoritative exponent of
Sri Aurobindo's yoga as well as the classical teachings of the Gita,
Upanishads, Veda and the Tantra.