---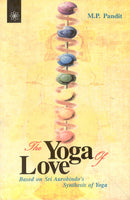 The Yoga of Love concerns itself with the union of the human soul with the divine through emotion, the heart's movements of aspiration, longing and seeking, and the fulfilment of the divine relationship with the soul. This yoga is the fount from which the great saints have drawn their inspiration and strength. The soul's ecstasy of love has given us Mirabai, St. Francis, Hanuman, Kabir and others in all the religious and spiritual traditions of the World.
Review(s)
About the Author(s)
M.P. PANDIT is the author of more than 100 books on yoga and spirituality.
He is a world-recognised authority on yoga and an authoritative exponent of
Sri Aurobindo's yoga as well as the classical teachings of the Gita,
Upanishads, Veda and the Tantra.