---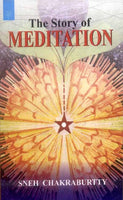 Patanjaliês Ashtanga Yoga is no mean assignment to identify with! It took the author over twenty years to unbolt (she hopes) what the sutras were trying to converse with her. In this book she gives personalities inherent in each of the seven chakras in the spinal cord. She weaves a story around individuals at different levels of human evolution while on a spiritual journey.
Review(s)
This book is a masterpiece. Dr. Chakraburtty has worked with her spiritual teacher, Swami Chinmayananda for over 25 years. The story of Meditation is both her personal experience of spiritual development and an in _ depth text of Eastern philosophy, speci
About the Author:
SNEH (AHUJA) CHAKRABURTTY was born in Punjab, educated in Zanzibar and in Ireland. She grew up with a deep interest in spirituality. She was taught the Vedanta by Swami Chinmayananda himself for over twenty years. Thirty-three years later, she continues to make medicine and philosophy a symbiotic relationship.