---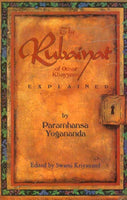 Omar Khayyam's famous poem, The Rubaiyat, is loved by Westerners as a hymn of praise to sensual delights. In the East, his quatrains enjoy a very different reputation: They are known as a deep allegory of the soul's romance with God. Even there, however, the knowing is based on who and what Omar Khayyam was: a sage and mystic. As for what his quatrains actually mean, most of them have remained a mystery in the East as much as in the West.
Now after eight centuries, Paramhansa Yogananda, one of the great mystics of our times, a master of yoga and the author of the now classic Autobiography of a yogi, explains the mystery behind Omar's famous poem. In Yogananda's Introduction he wrote: I suddenly beheld the walls of its outer meanings crumble away. The vast inner fortress of golden spiritual treasures stood open to my gaze.
This book contains the essence of that great revelation. Unavailable in book form since its first penning nearly sixty years ago, The Rubaiyat of Omar Khayyam Explained is available at last.
Review(s)
Like the fine wines of which it speaks, the book has elegance and style, and is an educational experience. It goes far beyond the immediacy and pleasures of the book itself to concepts of under-standing and love which can be of great meaning to all of us. - Robert Mondavi, Robert Mondavi Winery, California
The Rubaiyat of Omar Khayyam Explained has some of the most evocative and spiritually insightful verses I have ever read. This book will bring bliss to all those who want to drink from the cup of divine love. - Deepak Chopra, M.D., Author, Ageless Body, Timeless Mind.
Sparkles with wisdom like the purest of venetian crystal. - Paolo Tosetto, President, Studio Italia design, Venice, Italy
About the Author(s)
PARMHANSA YOGANANDA was one of the best-known spirritual teachers of the Twentieth Century. His Autoiography of a yogi since its appearance in 1946, has been printed in the hears of millions, and has been rated the best-selling autobiography of all time. Yogananda was the first true yoga master to settle in the West. He lived in America form 1920 until his death in 1952, teaching hundreds of thousans\ds of, people and bringing crystal clarity to ancient teachings of the East that are shrouded in the cultural aassumptions and terminology of an era long past. Swami Kriyanand (J. Donald Walters) has been a close, direct disciple of Paramhansa Yogananda since 1948. In 1950, Yogananda gave him the task of editing his explanation of Omar Khayyam's Rubaiyat, a responsiility for which his disciple has spent the past forty-four years preparing himself.