---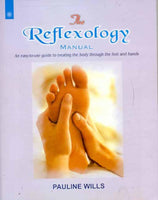 A therapy traditionally used in China, Egypt and India, reflexology today is now widely used as an effective, holistic treatment for disease and relief from stress. Using pressur and massage techniques on reflex points of the feet and hands, reflexology alleviates energy blocks that can cause pain, diaability or tension, encouraging the body to return to optimum health.
Clear illustrations show how all internal body structures and organs are mirrored- reflected- in- the reflex points and a step-by-step guide shows how to perform a full treatment. A special section describes how to incorporate chakra work and colour therapy into reflexology sessions.
Review(s)
About the Author(s)
Pauline Wills, is a professional reflexologist and colour therapist who gives talk and workshops through Europe. She is the author of Chakra Workbook and books on colour therapy and visualizations.