---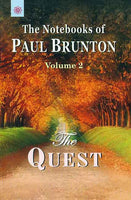 This second volume in The Notebooks of Paul Brunton gives timely, candid, immediately useful advice about the promises and pitfalls of spiritual seeking. Drawing creatively and in a thoroughly unique fashion upon philosophical insights of both East and West, Dr. Brunton shows clearly and simply how the daily experiences and difficulties of modern living can be successfully transformed into meaningful steps on the timeless search for self-knowledge.
The Quest is invaluable for reconciling the voices of authority and individuality in anyone who longs for absolute inner freedom and competent instruction. It presents in depth, the first of the twenty-eight categories from Dr. Brunton's personal notebooks sureyed in Perspectives.
Review(s)
"...a person of rare intelligence... thoroughly alive, and whole in the most significant, 'holy' sense of the word." - Yoga Journal
About the Author(s)
Paul Brunton was one of the twentieth century's greatest explorers of the spiritual tradition of the East. He was also a journalist with a healthy regard for critical impartiality and for commonsense. These characteristics together with a rich inner life, made him a superb writer on the spirituality of the Orient.