---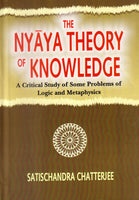 Sale
About the Book:
As a system of realism, the Nyëya deserves special study to show that Idealism was not the only
philosophical creed of ancient India. This book is an attempt to give a complete account of the Nyëya theory of knowledge in comparison with the rival theories of other systems, Indian and Western, and a critical estimation of its worth. Though theories of knowledge of the Vedënta and other schools have been partially studied in this way by some, there has as yet been no such systematic, critical and comparative treatment of the Nyëya epistemology, The importance of such a study of Indian realistic theories of knowledge can scarcely be overrated in this modern age of Realism.
About the Author:

Satischandra Chatterjee, WAS formerly HOD of Philosophy, Calcutta University and Visiting Professor, University of Hawaii, U.S.A.