---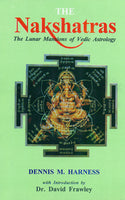 Sale
The Book by Dr. Dennis Harness provides an excellent practical presentation to this important astrological system. It shows us how to access the wisdom of the Nakshatras in our personal life and for our society. Through it, the modern reader can understand the energies of their stars and learn how to utilize these to bring their lives into harmony with the great forces of the universe. The book is a must reading not only for any students of astrology but for any students of astrology but for anyone interested in self-development or spiritual growth.
Review(s)
"By providinng a clear, succinct and easily available introduction to the nakshatras or lunar mansions of Vedic astrology, Dr. Harness has filled a great need. His fine work will be useful to astrologers for years to come." -Kenneth Johnson, Co-author of Mythic Astrology
"The Nakshatras blends a profound knowledge of ancient eastern mythology with an equally profound understanding of modern western psychology. This book explores our ancient astrological roots in a comprehensive manner that will capture the interest of both eastern and western astrologers alike." - Dennis Flaherty, Director of the Northwest Institute of Vedic Studies
"The Nakshatras is groundbreaking book of great importance. Finally, a clear concise text on the lunar mansions that provides astrologers practical information to use in every birthchart interpretation. This text fills a gap that has existed in Hindu Astrology not for hundreds, but thousands of years. Thank you. Dennis Harness, for a job well done!" - James T. Braha, Author of Ancient Hindu Astrology for the Modern, Western Astrologer
About the Author(s)
Dennis M. Harness, Ph.D., is a professional astrologer who holds a doctorate degree in Counseling Psychology.  For more than twenty years, Dennis has studied both Eastern and Western techniques of astrology.  He is the director of the Institute of Vedic Astrology in Sedona, AZ., where he has a private practice.  Dennis enjoys tutoring students for the ACVA certification program.  He also teaches workshops on Vedic Astrology and Transpersonal Psychology throughout the United States.  He was awarded the title of Jyotish Kovid and Jyotish Vachaspati by the Indian Council of Astrological Sciences.  Dr. Harness is the Executive Vice President of the American Council of Vedic Astrology.