---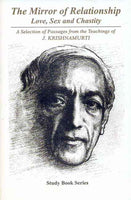 Krishnamurti offers provocative, new, and sensitive answers to perennial questions about:
* Why relationships are difficult?
* The difference between pleasure and desire.
* Why is sex a problem in my life?
* What is chastity?
* Am I really in love?
* How can I live with another without conflict?
"There is no escape from relationship. In that relationship, which is the mirror in which we can see ourselves, we can discover what we are, our reactions, our prejudices, our fears, depression, anxieties, loneliness, sorrow, pain, grief. We can also discover whether we lose or there is no such thing as love. Se, we will examine this question of relationship because that is the basis of love." - J. Krishnamurti, Madras, India, 1982
"Why does the mind think about sex at all? Why? Why has it become a central issue in your life? Sex becomes an extraordinary, difficult and complex problem so long as you do not understand the mind, which thinks about the problem. The act itself can never be a problem but the thought about the act creates the problem." - J. Krishnamurti, The First and Last Freedom
Review(s)
About the Author(s)
J. KRISHNAMURTI was a world-renowned spiritual teacher who, for more than fifty years, shared his message with people of all ages, races and backgrounds. He wrote many books, including First and Last Freedom, Freedom from the Known and Last Talks at Saanen 1985.