---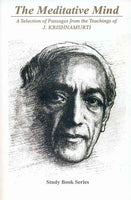 The Meditative Mind collects Krishnamurti's meditations on meditation itself. In his original, austere, challenging voice, Krishnamurti overthrows traditional ideas of what meditation means.
From the Book
"The very inquiry into what is meditation will open the door to meditation."
"A system of meditation is not meditation. A system implies a method which you practise in order to achieve something at the end. Something practised over and over again becomes mechanical, does it not? How can a mechanical mind-which has been trained and twisted, tortured to comply to the pattern of what it calls meditation, hoping to achieve a reward at the end-be free to observe, to learn?"
"Meditation is renewal; it is an intense passive awareness, the burning away of the desire to continue, to become... Only when the mind ceases is there creation."
Review(s)
About the Author(s)
J. KRISHNAMURTI was a world-renowned spiritual teacher who, for more than fifty years, shared his message with people of all ages, races and backgrounds. He wrote many books, including First and Last Freedom, Freedom from the Known and Last Talks at Saanen 1985.