---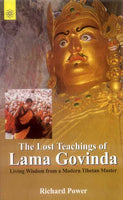 The author in The Lost Teachings of Lama Govinda digs through the treasure trove of Govindaês many writings, as well as his private letters and other archival materials, and brings forth nuggets of pure gold. He also mines the memoirs of several other luminaries who met and were inspired by Govinda, such as Huston Smith and W.Y. Evans-Wentz, and shares the wisdom they gleaned
from him.
This work is a must read for anyone interested in the development of Tibetan Buddhism in the West. It also serves as a wonderful and lucid introduction to Tibetan mysticism. For the first time in book form, we find Govindaês best essays on contemporary spirituality, addressing such issues as:
Buddhism in relation to mystical Christianity, Western psychology, and scientific consciousness studies
The I Chingãthe ancient Chinese •Book of Changesê as the key to a profound worldview
Meditation as a path to transformation
Review(s)
–Govinda as a prolific writer, and Powerês portrait of him distills this reservoir of spiritual literature down to its essence, presenting ancient mysteries in an accessible and inspiring manner. I give it two thumbs up.", ãGlenn H. Mullin, author of ove
About the Author(s)
Richard Power, editor, is author of Great Song: The Life and Teachings of Joe Miller. Lecturing worldwide, he has studied Vajrayana Buddhism for thirty years.