---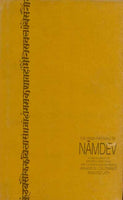 Namdev, who lived in the 14th century, was one of the greatest saint-poets of Maharashtra. Besides numerous songs in Marathi, tradition ascribes to him songs in Hindi too. According to his 16th century 'biographer' Anantdas, Namdev was the first among the nirgun greats and stood at the threshold of the remarkable religious and poetic movement which later produced men like Kabir, Raidas, Nanak and Dadu. The authors duo have edited and translated of a select number of Namdev's songs, those that are considered as belonging to the oldest strata. An authentic biography of Namdev is also presented.
Review(s)
About the Author(s)
WINAND M. CALLEWAERT is Professor of Sanskrit at the KULeuven, Belgium.
Besides numerous research articles he has published 17 books in English or
Hindi and 12 in Dutch.