---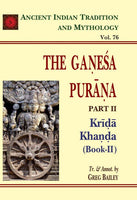 The Ganesapurana ( GnP. ) is a Puranic text probably composed in the fourteenth or fifteenth century. Its contents derive partially from earlier literature dealing with Ganesa, but also draw on the body of myths found in the mahapuranas and upapuranas. It is divided into two books, called Upasanakhanda (Ukh.) and Kridakhanda (Krkh.), which are complementary with each other from the perspective of contents. Each book contains many myths and sections of text detailing rituals to be performed to Ganesa, though these are much less common in the Krkh. In addition, the forty-sixth chapter of the Ukh. contains a sahasranamastotra and chapters one hundred and thirty-nine to one hundred and fifty of the Krkh. contains the Ganesagita. The presence of both these plus the large body of myths makes this an almost complete devotional text for the worship and theology of Ganesa. 
    One should not read the extant GnP. in order to find out about the early history of the development of Ganesa as a god, nor should it be read to discover the meaning of the myths about the early birth of Ganesa, his functioning as Parvati's house-guard and his clash with Siva, subsequent beheading and acquisition of the head of an elephant. As for the first, Ganesa was already a very popular god by the time his Purana was composed and had many sacred places associated with him, though the founding of some of these is provided in the GnP. itself. For the second, the myths of his childhood as they are expressed in the mahapuranas are directly present in the Ukh. and are directly present in the Krkh, but in an extremely muted manner, with the tension between Ganesa and Siva begin underplayed, though still in evidence. 
     Rather the GnP. must be read as the product of a time when Ganesa had already assumed a status as one of the most popular Hindu gods over much of the sub-continent. The appearance of both it and the Mudgalapurana at similar periods suggests a need was felt by certain groups of Ganesa worshippers to establish Ganesa textually as a god of status not unlike Visnu and his more popular avataras.