---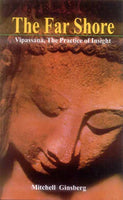 We have all had glimpses from the far shore, where with openness we experience and are fully in touch with ourselves. From the far shore we see with honesty, clarity, and true acceptance.
The Far Shore offers reflections on this experience in everyday life, and is addressed to all who are drawn to the path of awareness and compassion.
Review(s)
The Far Shore is a precise, simple and clear practical book on the development of non-judgmental, choiceless and insightful awareness which leads to the complete evolution of consciousness. - DHIRAVAMSA, Author of Turning to the Source
These essays, li
About the Author(s)
Mitchell Ginsberg, Ph.D., has been a teacher (kalyana-mitta) in the Thai Buddhist Vipassana Meditation Traditions since 1975. For years, he devoted himself to leading retreats in this tradition, in Britain, Europe, and America. He is currently a psychotherapist using Buddhist meditative principles in his work, writings, and personal life.