---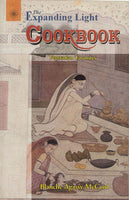 The book is for great-tasting, healthful, vegetarian cuisine including Indian, Middle Eastern, Japanese, Thai, Italian and Mexican. Every recipe is simple, easy to use and delicious. In it you will find terrific new vegetable dishes, grains, beans, soups, salad dressings and quick brands.
There are dairy as well as non-dairy recipes. Besides the book provides a wide selection of suggested menus for lunches and dinners for various seasons of the year. Appendices provide valuable relevant additional information. With this cookbook, you'll learn to make naturally satisfying meals that are easy to digest, leaving you feeling light and energetic.
Review(s)
"Blanche applies her mastery of natural cooking in these healthy and delicious recipes which are sure to improve your health and well-being." - MARC HALPERN
"Delicate, nourishing and divinely satifying vegetarian recipes." - M.J. SPEARIN
"Blanche's
About the Author(s)
BLANCHE AGASSY MCCORD is the head chef at The Expanding light, where she
also teaches yoga, meditation, and vegetarian cooking classes. She learned
vegetarian Kosher cooking while growing up in Israel, studied Temple
Cooking with Buddhist monks while living in Kyoto, Japan, and learned
Ayurvedic, macrobiotic and Indian cooking from premier California chefs.