---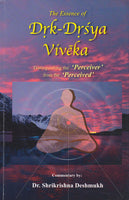 Samadhi is a topic of great curiosity, amazement, astonishment and mysteriousness. There are stories of people sitting quietly in Samadhi for years together. Stories of Uddhava, Hanumana in Samadhi are startling for many people. Drk-Drsya Viveka, however, explains the concept of Samadhi based on Vedanta philosophy in a lucid, coherent manner. Various types of Samadhi have been explained to help genuine seekers develop the firm belief that, they too practice Samadhi. The success of this treatise indeed lies in this feature.
About the Author:
Dr. Shrikrishna Deshmuk, fondly called as Dr. Kaka, is a renowned spiritual teacher and exponent of Advaita Vedanta. A retired Medical exemplary medical service, Dr. kaka hails from a town named Murgud in Kolhapur district in Maharashtra.
He has authored more than 50 books in Marathi on topics including Upanisads, Bhagavad-Gita and Brahmasutras. He in known for his remarkable dexterity in logically analyzing intricate concepts of Vedanta. An excellent orator, he emphasizes the path of 'Applied Vedanta in day-to-day life and his lectures resonate extremely well with audiences of all ages. Today, many Truth-seekers are drawn towards him due to his wisdom, compassion and practical approach towards spirituality. His cheerful, calm, reticent and courteous nature is highly revered and genuinely admired by one and all.