---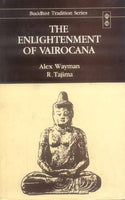 The Enlightenment of Vairocana is a covering for two books that study a famous Buddhist scripture with given Sanskrit titles of Vairocanabhisambodhitantra or Mahavairocanasutra. The first book, by Alex Wayman, translates the second chapter, which contains the body mandala of Vairocana's Compassion, copiously using Buddhaguhya's commentary, study of some other chapters such as the final one on fire lineage, and includes much introductory material, stressing the Indo-Tibetan approach, on such topics as the Dharmadhatu and the deities of the second chapter. The second book, by Ryujun Tajima, translates the first chapter, with the scripture's theory of becoming a Buddha in one life, copiously using Subhakarasimha's commentary, summary of the remaining chapters, and includes introductory material stressing the Sino-Japanese approach, especially introducing the reader to the positions of the Shingon sect.
The two books complement each other, and provide the interested reader with a veritable feast of information. Hopefully the reader will appreciate the beauty of religious message, and the efforts of the two authors to render the words of the scripture sensitively and carefully. It should be admitted
that this is a profound Buddhist scripture with numerous well-crafted verses, and that it is resistent to the understanding, requiring lengthy attention for its penetration.
Review(s)
About the Author(s)
ALEX WAYMAN, formerly Professor of Sanskrit, Columbia University, New York is in the forefront of Western Buddhist Scholarship by his series of books in both tantric and non-tantric Buddhism based on over thirty years of researches. He employs both the Sanskrit and Tibetan languages in his books and articles. He has authored well over a hundred articles for professional journals and honorary volumes in various countries and in recent years almost exclusively by invitation. His authorship of various seminal works on Buddhist Tantra ensures that the present collection of tantric essays conform to high standards of authoritative texts and dependable citations.