---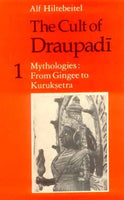 This is the first volume of a projected three-volume work on the little known South Indian folk cult of the goddess Draupadi and on the classical epic, the Mahabharata, that the cult brings to life in mythic, ritual and dramatic forms. It focuses on the Draupadi cult's own double mythology, moving from its storieis about Draupadi's 'primal temple' near the capital of the medieval South Indian Kingdom of Gingee to its version of the Mahabharata war on the North Indian plain of Kuruksetra. Throughout, Hiltebeitel intertwines 'regional' data, gathered from both oral and written sources, with the 'epic', drawn from the cult's own performative traditions as well as from classical versions of the Mahabharata in both Tamil and Sanskrit. He re-examines many issues critical to Indological studies and takes up them while breaking new ground in investigating the further rapport between the Hindu goddess and the Indian epic. Future volumes will treat the rituals of the Draupadi cult and the Mahabharata as seen through a Draupadi cult retrospective.
Contents
List of Maps, List of Plates, List of Tables, Preface, Acknowledgements, Conventions, PART I: From Gingee: Introduction: Invocatory Songs to Draupadi, 'The Lady Who Resides in Gingee', The Draupadi Cult: Its Historical and Regional Settings, Social Background, Diffusion, Variation, and Change, The Sources of the Gingee Kingdom: The Living River and the Tree of Gold, Myths of the Melacceri Draupadi Temple, Muttal Ravuttan: Draupadi's Muslim Devotee, PART II: To Kuruksetra: The Draupadi Cult's Mahabharata: An Introduction, The Death of Baka: Prelude to the Drama Cycle, Additional Marriages, The two Sabhas: 'The Rajasuya Sacrifice' and 'Dice Match and Disrobing' , Arjuna's Tapas, Draupadi's Forest Exile and the Period in Disguise: Virapancali, Puvalicci, and Kuravanci, Krsna the Messenger, Aravan's Sacrifice, Pormannan's Fight: Pottu Raja at Kuruksetra, Pormannan's Flight: The War Kings Weapons and Their Mythical Sources, Kuruksetra: The Mahabharata War, When Draupadi Walked on fire, Appendix 1: The Lunar Dynasty from its origins to draupadi's Second Advent at Gingee, Appendix 2. An outline History of Gingee, Abbreviations, Bibliography, Index.
Review(s)
About the Author(s)
Alf Hiltebeitel is professor of Religion and Director of the Human
Sciences Programme at George Washington University, Washington, DC. He is
the author or editor of several previous books on Indian religion,
anthropology and literature including, Draupadi Among Rajputs, Muslims and
Dalits: Rethinking India's Oral and Classical Epics.