---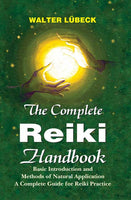 Every human being has the innate capacity to work with Reiki. Those who have an open-minded
attitude toward life and to the wonders of nature that surround them know that there are a
host of inexplicable, incomprehensible influences affecting their feelings, behaviour and also their bodies, their very well-being as well as their illnesses. However, to apply Reiki practically for yourself or others, channels must be opened in certain regions of the various bodies (both physical and subtle). This opening process is performed as an initiation by a Reiki master trained in the traditional way.
As is the case with any other therapeutic application, Reiki may cause "side effects" resulting from cleansing processes which may occur. Therefore, this book recommends gaining sound knowledge of the method itself and its forms of application as given by Reiki masters at training seminars. This book will help to broaden the knowledge thus gained and provide more insight into Reiki so that it may be applied with greater ease and care. In view of further limitations of biological medicine likely to manifest in the future, Reiki will gain in importance, especially in view of the fact that it does not cause any permanent damage. It is an invaluable aid and an enrichment to alternative medicine.
Reiki is the Japanese word for universal life force energy. With the help of Reiki you discover how to better harmonize the beauty and wholeness of the Inner Self with your actions in the outer world. Today, more and more people are becoming enthusiastic about the Reiki method of natural healing, as it enables you to channel this precious energy to yourself.
The author, Walter Lubeck, is an experienced Reiki master sharing his insights after years of practical experience. The "Reiki Handbook" describes comprehensively the secrets and possible uses of this subtle healing force and how you can receive it. It is an introductory as well as precise and detailed text book for the initiated Reiki practitioner. Walter Lubeck describes the "path of healing love", revealing the possibilities as well as limitations of Reiki application and explains the meaning of various procedures in reiki whole body treatment. The Reiki positions are presented in sensitive, clear illustrations, and their effects on the organism and the subtle energy system (chakras) are described in detail. You learn how crystals and scents can be included in Reiki treatment, how you can also treat plants and animals with Reiki treatment, how you can also treat plants and animals with Reiki, and in addition, you receive answers to the most often asked questions regarding Reiki.
Review(s)
About the Author(s)
WALTER LUBECK a renowned Reiki master, is the founder and director of the
Reiki-Do Institute.