---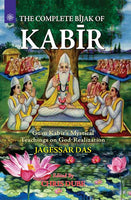 The Bijak is the source text of Kabir's essential spiritual teachings. The main focus of the book is mystical, emphasizing the connection of the soul with God and how to realize that connection through an inner journey under the guidance of a qualified master. It discusses the pitfall aspirants need to avoid, especially the influence of false teachers, and the delusion that Kabir identifies as Maya. Maya is what deludes us into thinking we know reality, when, in fact, we are being led into traps of ignorance. Kabir fearlessly uses such metaphors and employs challenging language when he observes hypocrisy perpetrated in the name of religion. His goal is for us to realize God's omnipresence and the essential truth in religion and spirituality so we can obtain liberation in this life.
It must be borne in mind that Kabir taught in the 15th century and that his compositions are often epigrammatic and enigmatic. Although the symbologies used are essentially Indian, Kabir used a great deal of allegorical, mythological, and paradoxical language. In the commentaries the author has attempted to make the various meanings as clear as possible.
Review(s)
About the Author(s)
Dr. Jagessar Das was born in Guyana and studied medicine at the University of British Columbia, Canada, His parents were followers of Kabir and instilled in him a keen interest in religion and spirituality. Dr. Das produced a 13 part world religious television series and has appeared as a guest on several television series and has appeared as a guest on several television programs. As president of the Kabir Association of Candaa, he has written extensively on Kabir as well as lectured on Kabir's teachings internationally. He teaches meditation and maintains an active website on Kabir. He has retired from general practice after 42 years currently residing in surrey, British Columbia.