---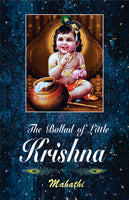 About the Book:
The BALLAD OF LITTLE KRISHNA is the story of Lord Krishna's childhood tales, adventures and about His divine exploits. The story starts with the birth of Lord Krishna and ends with the death of Kans the incarnate of Demonic clans. The entire book is composed in sweet lyrical ballads.
About the Author:
MYDAVOLU VENKATA SESHA SATHYANARAYANA who writes with the penname 'mahathi' is a postgraduate in law and once a practising lawyer in Nellore and later an officer in Central Industries ministry. He retired from Government service in 2014
'Mahathi' is considered as one of the finest Indian English poets of modern times, whose poetry is replete with high imagery, clear diction, humour, pun and satire. He is adept with both formal and free verse though most of his later works were composed in formal verse.
So far his poetry was published as 6 collections and 4 epic long poems.
His poems were published in a number of print journals and magazines like POETS INTERNATIONAL, METVERSE MUSE, ROCK PEBBLES, KAVYA BHARATHI (India), TEESTA JOUNAL, WESTWARD QUARTERLY MAGAZINE(Illinois) SOCIETY OF CLASSICAL POSTS (New York), BHAKTI NIVEDANA (US), SCARLET LEAF (Canada), SPARKS OF CALLIOPE (US) and won many prizes. His SUNDARA KANDA was serialized in SAPHTAGIRI English MAGAZINE (TTD Publications) and many other articles and poems were published in the said magazine. Presently his Bhakti - Love ambrosia is being serialized in BHAKTI NIVEDANA from New Jersey. He can be approached at mydavolu@gmail.com.