---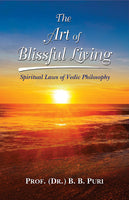 Sale
About the Book:
Living a contented life is an art, a skill, a technique, which all of us need to learn and master in order to achieve mental peace, harmony and healthy lifestyle. If you are happy without any reason, that's the real happiness.
The Author has made an excellent effort to establish how to livein harmony with our surroundings by maintaining a proper balance between body, mind, soul, intellect and the environment around usin line with the five elements of Nature. You will be able to reduce the stress and strain of materialistic life, leading to a state of ultimate liberation and bliss. The tips given in the various chapters of this book offer a practical way of life which satisfies your spiritual needs leading to mental peace along with material happiness and prosperity. Vedic Philosophy means knowledge, mind possesses knowledge, therefore, the mind is the Author of all our actions and behaviour. I was born in the darkest ignorance, and my spiritual master opened my eyes with the touch of knowledge.
 The Author has attempted to take microscopic section from the magnificent Vedic period based on TRUTH and scientific reason to show how close people are to nature and how they could learn the art of meaningful and fruitful living aided by Vedic knowledge to enjoy the gift of NATURE.
About the Author:
Prof. Dr. B.B. Puri, Ph.D, Arch.,D.Sc, D.Litt, M,B,H,B, (RMP) AMICE, USA a veteran from India has a multifaceted personality being a senior practicing Architect, Research Scholar, a Vastu Expert and a distinguished author having written over 50 inspiring books on spiritual and personal growth. His books are a manifestation of his wisdom that he has acquired over the years and selflessly shared with the world.
Prof. Puri has been associated with numerous professional organiz-ations that have contributed to his versatility and depth of character, hence considered a guru, second to none by his disciples. His creative ability and writing prowess has earned him many accolades from the Hon' President and Prime Minister of not only our country but other nations too and several other eminent personalities.