---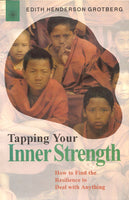 This useful research-based book integrates the role of risk into resilient behaviour. This book tells you how resilience skill can be developed and nurtured and helps in overcoming the adversities of life. It takes readers step-by-step through discovering and developing their capacities for
resilience. It will help you to: build on your present strengths; strengthen your present weaknesses; re-examine previous experiences of adversity; prepare for coming experiences of adversity; apply resilience in a variety of settings.
Review(s)
"If a tonic for our times could be bottled, its label would read Resilience. Dr. Grotberg takes readers step-by-step through discovering and developing their capacities for resilience. Tapping Your Inner Strength is a must-read...I can't think of anyone w
About the Author(s)
EDITH HENDERSON GROTBERG is senior scientist and managing editor of
Dialogue: Insights into Human Emotions for Creative Professionals.