---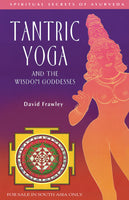 Reviews: 
"Dr. David Frawley is one of the most important scholars of Ayurveda and Vedic Science today. I have gained great personal insight from his work and have great respect and admiration for his knowledge, and for the lucid way in which he has expounded the ancient wisdom of the Vedas. Anyone who is exposed to Dr. Frawley's work is bound to not only become more knowledgeable but wiser." Deepak Chopra, M.D.
"It is an enormous relief to discover a book in English that authentically represents the Tantric tradition. The difference between the manner in which Tantra is usually described in the West and the way I've seen it actually practiced in India is so vast I can scarcely believe the same topic is being addressed. David Frawley presents the living practices of Tantra in their true colors, against the backdrop of a millennial tradition of astonishing beauty and profundity. I am especially grateful that he is introducing Western readers to the major goddesses of the Hindu esoteric system. We are only now "discovering" the Goddess in the West; in India She was never lost. Dr. Frawley's new book provides invaluable insights into the most ancient continuously practiced Goddess tradition in the world." Linda Johnsen Author, Daughters of the Goddess: The Women Saints of India
"David Frawley in his book Tantric Yoga and the Wisdom Goddesses successfully removes the misunderstandings regarding Tantra which have clouded the vision of under informed students of Tantra. His presentation is the first time that English readers have an opportunity to learn about the Ten Mahavidyas, thecentral doctrine and practice of Shakta Tantricism in great detail. The unique-ness of the book lies in how the author pulls together Tantric and Ayurvedic sciences in a manner which one can practice in one's daily life." Pandit Rajmani Tigunait, Himalayan Institute
"Tantric Yoga and the Wisdom Goddesses is an excellent introduction to the essence of Hindu Tantrism. The author discusses all the major concepts and offers valuable corrections for many existing misconceptions. He also introduces the reader to the core Tantric practices of meditation and mantra recitation, focusing on the Ten Wisdom Goddesses." Georg Feuerstein, Ph.D.