---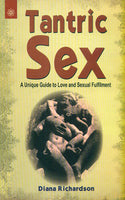 Richardson is dynamically unembarrassed about sex, as well as learned in healthy ways of using it to open our hearts and enhance awareness. She describes the ascending and descending phases of sexual energy; the spiritual path emphasizes the former, while the biological emphasizes the latter.
Tantra refers to this step (of re-directing sexual energy through relaxation instead of tension) as placing a foot on the first step of the ladder of growth." Richardson claims that our tendency of" goal orientation," making sex into another item on our already-full To Do list, results in haste, which "effectively and seriously" represses our sexual energy.
She is out to rectify the situation, first by reclaiming our sexuality before we can use tantra to transform it. "We only know how to 'do' in love, and not how to 'be' in love."
Review(s)
About the Author(s)
Diana Richardson was born in South Africa where she completed her education with a degree in Law. In the U.K. she trained as a practitioner of Therapeutic Massage and has been a teacher of Holistic Massage for twenty years. Living for many years in India as a disciple of the spiritual Master Osho, she undertook a life-changing enquiry into the union of sex and meditation and presented a unique Tantric Synthesis to the Osho Tantra School in India. Since 1993 she has devoted herself to sex education for adults, sharing her insights in a direct, practical and refreshing way, inspiring couples in the art of loving.