---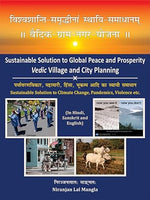 Sale
About the Book:
In the present times climate change, pollution, pandemic (Corona etc.), terrorism, the clash between the nations, natural calamities like earthquake etc., and various personal and social problems are causing distress amongst all creatures on this earth. The causes and the solution of these problems, in the light of Vedic sciences and technology, have been discussed in this book. The write-up has been reinforced with evidences, references, appendices and figures. It has been presented in three languages (Sanskrit – the language of the Devas; Hindi – the national language of India; English – the language prevalent in the world). It has been reviewed by scholars. The students and specialists in environment, town planning, engineering, science, administration, economics, management etc. will find this book useful. I hope all goods people, especially the heads of the nations, will implement the solution for their own benefit and for the welfare of all.
वर्तमान में पर्यावरणविकार, प्रदूषण, महामारी ("कोरोना" आदि), आतन्कवाद, देशों में परस्पर कलह, भूकम्पादि प्राकृतिक प्रकोप, बहुत सी व्यक्तिगत एवं सामाजिक समस्यायें विश्व के सभी प्राणियों को कष्ट दे रही हैं। वैदिक विज्ञान एवं स्थापत्य से इनका कारण एवं समाधान इस पुस्तिका में प्रस्तुत किये जा रहे हैं। इस लेख को प्रमाण, संदर्भ, परिशिष्ट एवं चित्रें द्वारा पुष्ट किया गया है। यह तीन भाषाओं (देववाणी संस्कृत_ भारतदेश की राष्ट्रभाषा हिन्दी_ संसार में प्रचलित आंग्लभाषा) में प्रस्तुत किया गया है। विद्वानों ने इसका पर्यालोचन किया है। पर्यावरण, नगरयोजना, विज्ञान, इंजीनियरिंग , प्रशासन, अर्थशास्त्र, प्रबन्धन आदि के विद्यार्थी तथा विशेषज्ञ इससे लाभान्वित होंगे। आशा है कि सभी सज्जन, विशेष कर राष्ट्रों के अधिपति (स्वामी) इस समाधान को व्यवहार में उतार कर अपना एवं विश्व का कल्याण करेंगे।
About the Author:
DR NIRANJAN LAL MANGLA has a mechanical engineering background (B. Tech IIT Delhi etc.). He also had the privilege to study Vedic texts (Vedangas, six Darsanas, Satapatha Brahmanam etc.) from eminent scholars in India through the traditional Gurukul system of education. The books Sriman-Manusmritih and Srimad Valmikiya- Ramayanam, purified by him, have been recently published. He is engaged in research on ancient air & space flight systems (Mangala Vimanam Pvt. Ltd.). He plans to establish an ideal Vedic education centre in future.
Review:

The tradition of town and country planning in India can be traced back to antiquity. Four Vedas i.e. Rigveda, Yajurveda, Samaveda, and Atharvaveda have several direct and indirect references to planning. It appears that modern town and country planning scholars have paid inadequate attention to our religious and philosophical heritage. As a pioneering effort, Sustainable Solution to Global Peace and Prosperity: The Vedic Village and City Planning penned by Niranjan Lal Mangla, this is one of those rare books in town and country planning which places the Vedic wisdom at the core of planning enterprise. This book success-fully demonstrates that many modern day challenges including the challenge of climate change could be handled through the Vedic principles. I expect this book to initiate a new movement in planning based on our traditional knowledge systems. --ASHOK KUMAR, MP (URP), PhD (University of Liverpool, UK) Professor of Planning, School of Planning and Architecture, Delhi.