---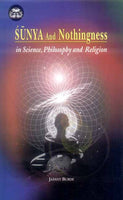 In this book the author analyzes the concepts of sunya (zero), void, nothing and other similar notions found in various fields _ mysticism, religion, philosophy, science and mathematics. This exploration reveals a strange but fascinating world of nothingness: a weird world with its mind-boggling contradictions and irrationalism conveying the central message of nihil, where one finds prophets and philosophers trying to harmonize contraries, non sequiturs and irreconciliables.
Review(s)
About the Author(s)
Jayant Burde received his M.Sc. degree in mathematics from Bombay University and a law degree from Bangalore University. He is also a Certificated Associate of Indian Institute of Bankers. His published papers contain mathematical models in finance, costing and organizational structure.
He has also authored five books: Philosophy of Numbers, Rituals, Mantras and Science (MLBD, 2004), Sunya and Nothingness (MLBD 2009), The Mystique of Om (New Age Books, 2007) and The World of Rhythm called Rituals (New Age Books, 2007).