---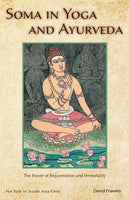 About the Book:
What is the secret of Soma, the legendary mystic drink of immortality, first lauded by India's ancient Vedic seers? Is Soma a single plant, a type of plants, a way of healing, a special intoxicant, or an inner elixir produced by Yoga and meditation?
Going back to the vision of the Vedic seers, David Frawley reveals the secret of Soma for body, mind and spirit, with its profound implications from diet and herbs to pranayama, mantra and meditation. His new analysis of Soma, reflecting forty years of study of Vedic texts, is practical, comprehensive and deeply insightful so that you can bring the secret power of Soma into all aspects of your life and consciousness, and for the world as a whole.
About the Author: 
David Frawley (Pandit Vamadeva Shastri) is a world renowned teacher of Yoga, Ayurveda, Vedic astrology and Veda and the author of several definitive texts in these fields over the past twenty-five years.
He follows the yogic approach of Ganapati Muni, the chief disciple of the great Advaitic guru Ramana Maharshi.
Reviews:
Vamadeva's tour of well-being, incisive and empirical, always comes back to us, to the goodness in our life. ...This book's fundamental message reminded me of Abraham Lincoln's maxim: "In the end, it's not the years in your life that count. It's the life in your years". The difference is, Vamadeva teaches us how to put the Divine life into all our days and years. - Paramacharya Sadasivanatha Palaniswami, Hinduism Today, Editor-in-Chief.
Soma in Yoga and Ayurveda weaves together with remarkable clarity rejuvenation of the body, revitalization of the mind, and awakening to the inherent immortality of the Spirit. The book reveals special healing secrets of Soma from the ancient Vedic rishis and Yogis reflecting a profound vision and wide range of application that can transform both our individual lives and our collective culture. Vamadeva Shastri has provided one of the most important and original books on Yoga and Ayurveda in recent times that is bound to be studied for decades to come. - Deepak Chopra, author Reinventing the Body, Resurrecting the Soul: How to Create a New Self
Once again, David Frawley has produced a book of unparalleled depth and insight. Soma in Yoga and Ayurveda synthesizes profound teachings and practices from Yoga, Tantra, Ayurveda, and Jyotish for rejuvenating the body, elevating emotions, awakening the intellect, and realizing the true meaning of immortality. Vamadeva is one of the few authentic voices sharing this transformational knowledge, making it available and accessible to the modern reader. I am continually grateful for his work. - Gary Kraftsow, American Viniyoga Institute, author Yoga for Wellness and Yoga for Transformation
Soma in Yoga & Ayurveda cracks the secret code of "Soma" and demystifies the myth and logic about its practical application. Dr. Frawley has clearly outlined that the real fountain of Soma is well within you and tapping into that nourishment will make your life enlightened and blissful. - Dr. Suhas Kshirsagar BAMS, MD (Ayu), Director, Ayurvedic Healing